Portfolio Website karya Bintang Pria Wicaksono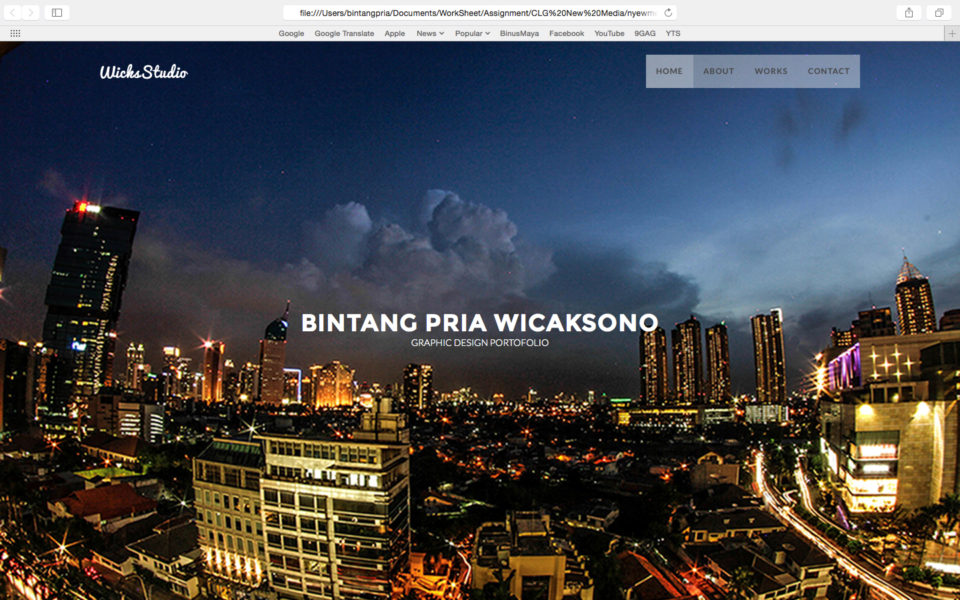 Ini adalah website portfolio yang saya buat. Website ini berguna untuk mempromosikan diri saya dalam bidang dan hasil pekerjaan saya melalui dunia maya. Website ini menggunakan system parallax.
Saya menggunakan parallax karna menurut saya website pada era ini menggunakan design yang simple, rapih, dan rata rata menggunakan parallax. Tema dari website ini sendiri adalah simple dan bermakna.
Website ini menggambarkan bahwa diri saya dan website ini sangat to the point dengan apa yang ingin di sampaikan pada para pembaca web ini. Pada halaman utama saya menggunakan hasi fotografi saya. Dan di tengahnya saya menjelaskan  bahwa website ini adalah website portfolio milik saya.
Pada bagian works, disitu terdapat beberapa hasil karya saya. Saya menggunakan system pop up pada gambar agar para visitor bisa melihat karya saya dengan lebih jelas.


Berikut di atas ini adalah isi konten konten dari website portfolio yang saya buat. Konten yang terdapat pada website ini adalah Home, About, works, Contact. Karna cara kerja website ini adalah parallax, maka user hanya perlu meng scroll we ini ke bawah, karna bentuk web ini memanjang ke bawah. Apabila user meng klik konten yang ada di atas web ini, maka page otomatis akan meng scroll ke bawah tepat di bagian konten itu ada. Berikut adalah isi masing masing konten:
Home  : Pada bagian home hanya terbagi menjadi fotografi dan tipografi. Fotografi menjadi background dan tipografi menjadi penjelas judul web.
About  : About menceritakan tentang siapa saya, dan menceritakan juga bagaimana cara bekerja dan skill skill apa saja yang saya bisa tawarkan.
Works : Adalah bagian dimana saya meletakan hasil hasil karya saya untuk di lihat oleh para visitor web saya. Apabila gambar di klik makan gambar akan mem pop up menajdi besar.
Contact : Bagian dimana saya memberi para visitor untuk memberikan saran dan masukan pada saya. Disini juga memberi tahu informasi alamat, nomer, dan social media saya. Dan disini juga berguan untuk menawarkan pekerjaan saya.
Jadi website ini sudah di pertunjukan dengan design yang sesuai dengan pekerjaan saya dan sifat saya. Website ini juga sudah di sesuaikan dengan umur para visitor kurang lebihnya. Web juga saya buat dengan alur yang jelas dan design yang ringan agar tetap enak untuk di baca oleh para visitor