"BENDA LANGKA" DI JAKARTA
ART | JOG merupakan art fair kontemporer Indonesia yang unik dan menarik, diselenggarakan setian tahun, dengan tujuan semacam outlet artistic untuk melihat tren terbaru karya seni kontemporer di Indonesia (www.artairjogja.com).
ART | JOG 2014 yang diselenggarakan di Taman Budaya Yogyakarta dengan tema Legacies of Power dengan menampilkan ratusan karya 103 seniman mancanegara dan lokal. Tema ini merujuk pada tahun 2014 di mana merupakan tahun politik di Indonesia karena akan digelar pemilihan umum. Legacies of Power mencoba menggali persoalan demokrasi dengan melihat kembali sejarah peralihan kekuasaan di Indonesia. Baik dari sisi konfrontasi fisik hingga cara-cara yang demokratis.
Pada halaman depan Taman Budaya Yogyakarta, penonton disambut dengan 150 boneka karung goni yang disusun dalam teras berundak, yang menceritakan struktur kekuasaan, seperti halnya dengan foto bersama para pejabat Indonesia di depan istana Merdeka.

Karya seni yang ditampilkan sebagian besar masih didominasi oleh lukisan, kemudian ada fotografi, video, instalasi, dan patung. Patung Soekarno berdiri tegak hampir menyentuh plafon gedung, menandakan kebesaran dan kewibawan seorang pemimpin bangsa.
Karya favorite saya adalah History Repeats Itself (Titarubi). Karya ini berupa patung fiberglass bead yang disusun menjadi sebuah karakter tanpa wajah dan berjubah seperti dicerita-cerita misteri masa depan, yang diberi lampu dari bawah sehingga karya terlihat sangat misterius dan sacral. Karya ini menceritakan penggalan kalimat Karl Marx "History repeats itself, first as tragedy, second as farce" dalam sebuah buku Das Kapital. Jika setiap generasi berharap pada generasi yang akan dating untuk memperbaiki kesalahannya yang sakarang, maka kesalahan akan terus berulang dan tidak akan pernah menjadi lebih baik. Tidak belajar dari sejarah dan memperbikinya sekarang hanya akan berujung pada malapetaka.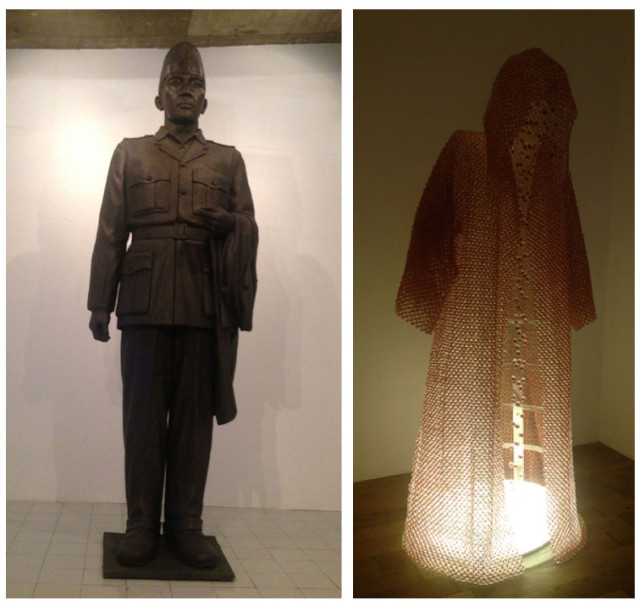 (Kiri) Karya Edhi Sunarso (Keberangkatan Pengasingan Presiden Soekarno oleh Belanda ke Pulau Bangka).
(Kanan) Karya Titarubi (History Repeats Itself ).
Walaupun tidak semua karya mampu saya pahami secara bentuk, makna, dan teknik, namun mengunjungi tempat-tempat seperti ini merupakan harta karun yang tidak ternilai terlebih lagi karena kerutinan, dan kerumitan di ibu kota yang membelenggu kita menjadi manusia kaku mengerjar target tanpa sempat melemaskan otak dan memanjakan mata dengan melihat dan mencerna karya-karya seni yang unik dan menarik.
Beberapa hasil karya lain: