LOWE Indonesia "Blusukan" ke Kampus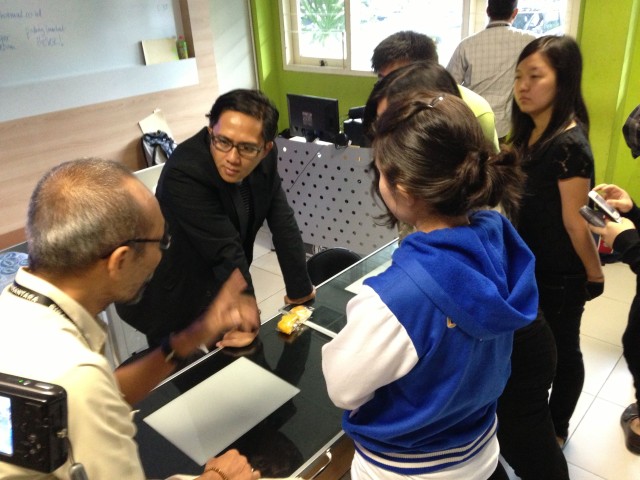 Dalam semester genap 2012/2013 ini mahasiswa semester VI DKV New Media, mendapatkan mata kuliah DKV 5 dengan materi perkuliahan perancangan visual kampanye sosial (PSA). Sudah menjadi agenda rutin kami mengundang beberapa organisasi/perusahaan untuk memberikan creative brief secara langsung (dalam kelas) di awal perkuliahan kepada rekan-rekan mahasiswa untuk dikerjakan selama satu semester.
Dalam kesempatan kali ini DKV Binus berkesempatan bekerjasama dengan pihak LOWE Indonesia untuk berbagi ilmu dalam bentuk sharing session di dalam kelas. Sharing session ini mengambil waktu pada perkuliahan regular DKV 5 tepat setelah periode UTS (Ujian Tengah Semester) dengan dosen Utama Bapak Hastjarjo B.W..
Tim LOWE Indonesia diwakili 4 orang yang terdiri dari Bapak Aji Bekti (Creative Group Head), Ibu Herfi Rani (HRD), Bapak Steven Tannason & Ibu Valisa Alvina (Art Director). Seperti sudah cukup dikenal bahwa LOWE Indonesia adalah creative agency bertaraf Internasional dan telah berkiprah selama 25 tahun dengan perwakilannya banyak tersebar di seluruh dunia.
Banyak iklan –iklan cetak maupun elektronik yang sudah dihasilkan oleh LOWE Indonesia, seperti yang cukup dikenal seperti short animation Paddle Pop (Walls) dan Iklan TV creative dalam rangka hari kemerdekaan "16 Agustus" (Sampoerna). Beberapa klien besar banyak ditangani LOWE Indonesia dengan iconic brands dalam payung besar Unilever, Indofood, Tempo, Unicef dll.
Banyak penghargaan telah diraih dalam award bergengsi berskala nasional maupun internasional seperti Citra Pariwara, Caraka, AdFest, Clio Awards and Cannes Lions. Dalam sharing session kali ini LOWE Indonesia berbagi tahapan proses kreatif dalam project PSA Unicef yang telah memenangkan Cannes Silver Award denga thema "Screen Off" yang terdiri dari 3 varian visual "Family", "Kids" dan "Kitchen". Kampanye sosial ini menyuarakan betapa pentingnya quality time bersama keluarga di era elektronik ini dengan creative copy "see what you can switch on, when the screen is off".
Selain strategi kreatif, beberapa solusi visual kreatif lainnya juga menjadi bahan pembahasan dalam sharing session ini melalui beberapa portofolio LOWE Indonesia lainnya. Sungguh merupakan kebahagiaan tersendiri bagi kami khususnya rekan mahasiswa mendapat kesempatan baik ini, tentunya bentuk kerjasama ini akan terus dilakukan dengan menambah kegiatan lainnya seperti kerjasama magang yang pernah dilakukan sebelumnya.