Being Through Becoming: Pameran Rumpun DKV New Media 2019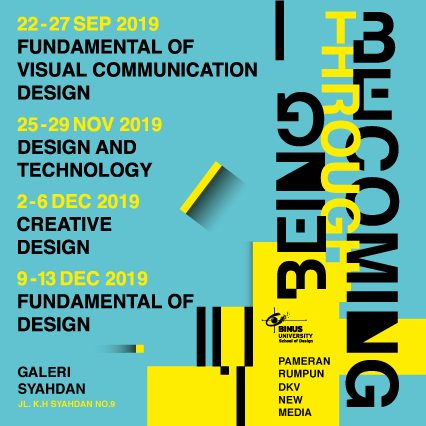 DKV New Media memulai rangkaian acara pameran karya – karya mahasiswa yang berlangsung dari September sampai Desember 2019. Rangkaian pertama berlangsung dari tanggal 22-27 September 2019 merupakan pameran rumpun Fundamental of Communication Design, diikuti rumpun Design and Technology di bulan November, dan diakhiri oleh rumpun Creative Design dan Fundamental of Design di bulan Desember.
Being through Becoming adalah pameran rutin yang menampilkan hasil penjelajahan rupa mahasiswa-mahasiswi New Media di kelas-kelas studio yang difasilitasi tim-tim dosen, penjelajahan yang niscaya perlu dalam rangka membangun visualitas yangberciri dan berarti di jagad desain komunikasi visual yang senantiasa bergerak ini. Dalam duni kita yang semakin dimediasi oleh lapis-lapis kompleks sinyal visual dan verbal, komunikasi visual yang mampu menggetarkan pengalaman menjadi penting. Untuk itu, latihan-latihan yang hasilnya dapat disaksikan dalam pameran ini merupakan buah dari upaya prodi New Media untuk mengintegrasikan antara prinsip-prinsip mendasar dalam olah bahasa rupa dengan sikap adaptif terhadap kemungkinan-kemungkinan bertutur visual yang dibuka media-media baru.
Mari kita rayakan bersama sejenak perjalanan rupa kita di tahun ajaran 2018-2019 ini.