Redesign Website Food Festival ( Jakarta Fashion and Food Festival ) karya Aulia Darmawan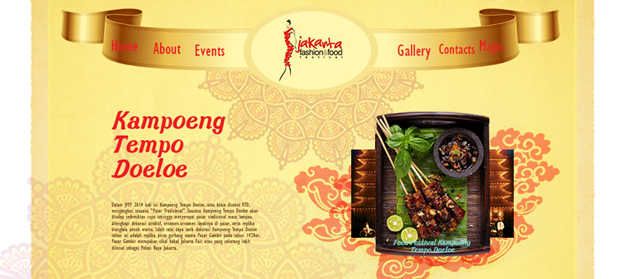 Website diatas merupakan hasil redesign website Jakarta Fashion and Food Festival. Berdasarkan website aslinya, redesign yang dilakukan dengan pendekatan budayadaerah. Elemen-elemen desain yang digunakan merupakan elemen budaya campuran. Seperti corak India dan corak Tiongkok pada page home ditandai budaya DKI Jakarta.

Terdapat 6 konten dalam website tersebut, yaitu home, about, events, contact, gallery, dan  maps. Ke 6 konten tersebut berisikan informasi kegiatan festifal tersebut. Dalam setiap konten, diberikan pendekatan budaya berbeda, Jakarta, Jawa,Indonesia Timur. Dapat dilihat dari ilustrasi maupun ornamen yang ditampilkan.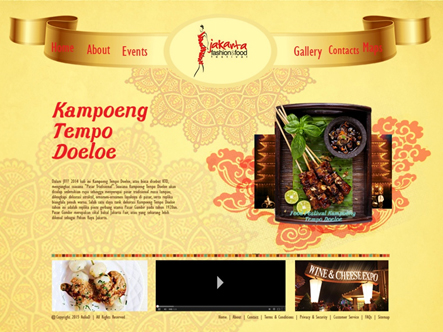 Warna yang dipakai juga disesuaikan dengan budaya tradisional. Coklat menjadi warna dominan, dan warna pendukung lainnya seperti merah dan emas juga biru muda sebagai kontras. Warna pastel sebagai background dari website tersebut.

Redesign website ini bertujuan untuk mempermudah visitor untuk meninjau website festival. unsur Tradisional dipilih sebagai gambaran kemeriahan festival dan juga tema yang diusung. redesign website ini lebih teratur dan mudah untuk menggunakan website tersebut.