Jakarta Toys and Comics Fair – Redesign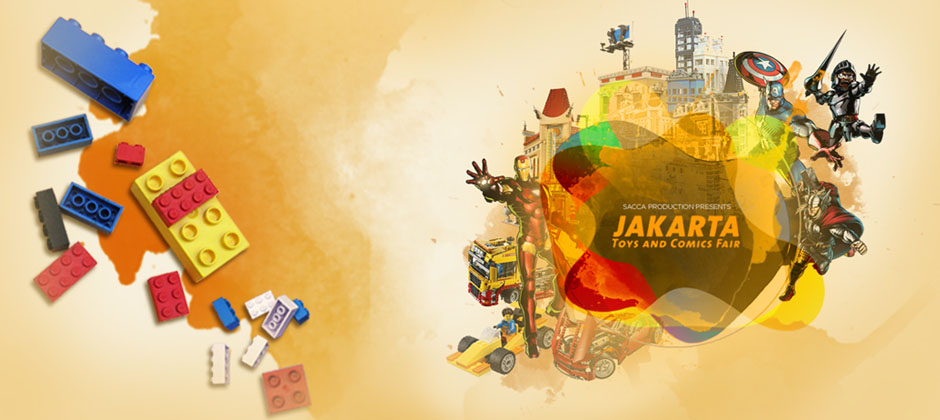 The Jakarta Toys & Comics Fair adalah pameran tahunan hasil karya SACCA Production yang berskala nasional yang masuk dalam Agenda Tahunan Kota Jakarta (Enjoy Jakarta!), yang bertujuan sebagai wadah dari komunitas para kolektor dan penggemar toys, comics dan collectibles di Indonesia, sehingga mereka dapat berkumpul, bertukar informasi, dan bertransaksi trade-buy-sell di seputar hobi ini, sekaligus merupakan ajang untuk memperkenalkan kepada publik secara umum seputar hobi ini. Acara ini menggunakan website sebagai salah satu media komunikasi kepada publik. Namun, website yang ditampilkan oleh Jakarta Toys and Comics Fair cenderung monoton sehingga kurang menarik untuk dikunjungi mulai dari segi user interface yang begitu kaku hingga user experience yang sangat kurang. Berikut beberapa contoh tampilan dari website asli Jakarta Toys and Comics Fair 2015.

Melihat masalah tersebut, maka saya melakukan redesign project untuk website ini sehingga dapat menjadi lebih baik dan menarik untuk dikunjungi. Karena jika website yang ditampilkan sudah terlihat menarik dan memiliki user experience yang baik, maka selain para audience lebih tertarik mengunjungi websitenya, audience tentu menjadi penasaran dan ingin mengunjungi pameran Jakarta Toys and Comics Fair itu sendiri. Hasil redesign website Jakarta Toys and Comics Fair tersebut sebagai berikut.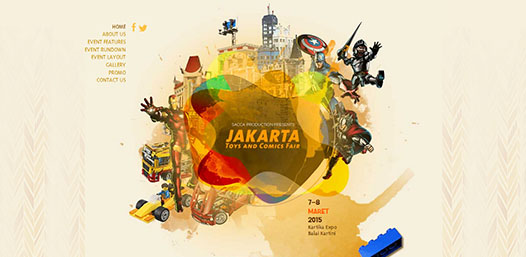 Website redesign tersebut dibuat lebih playful dan colorful dari warna elemen-elemennya, gambar yang ditampilkan, hingga penggunaan font yang fun sesuai tema Jakarta Toys and Comics Fair 2015. Sedangkan untuk memperbaiki user experience yang kurang dari website asli mereka, digunakan layout single page agar memberi kesan dinamis dan tidak kaku.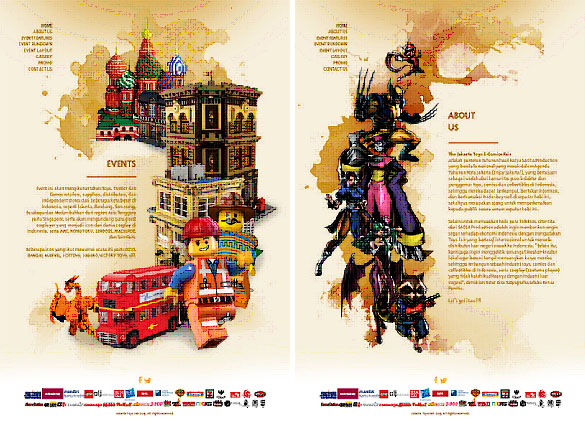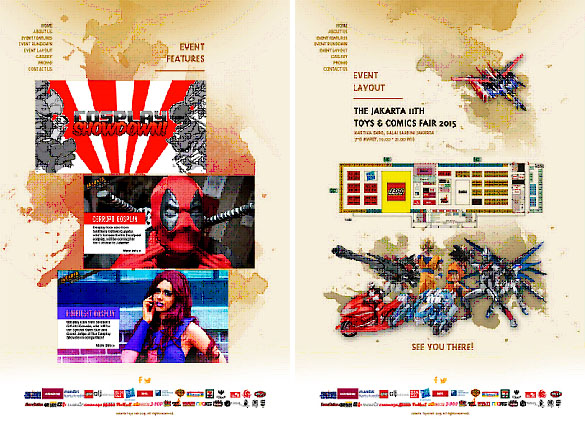 Website yang menarik begitu penting penggunaannya untuk menarik perhatian publik atau audience untuk mengetahui lebih dalam tentang informasi yang disajikan, Kedua aspek User Interface dan User Experience memang tidak dapat diabaikan dan memang saling berhubungan. Jika User Interface baik, namun User Experience sangat kurang, maka website tersebut menjadi tidak menarik, begitu pula sebaliknya.