Karya Komgraf 2 Vexia Fambriany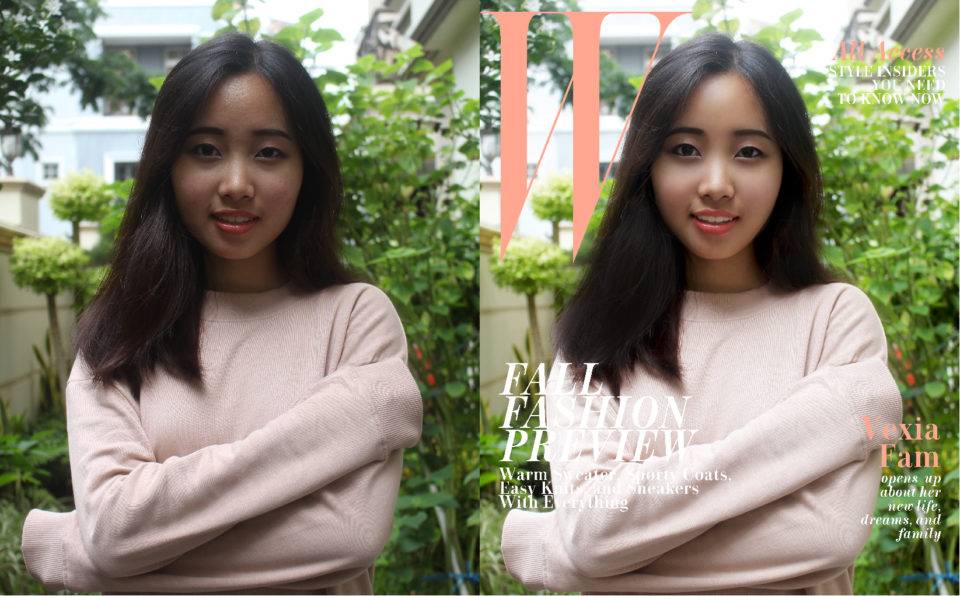 Konsep
Dalam tugas pertama mata kuliah Komputer Grafis II di semester 3 ini, saya menggunakan konsep dan tema 'warm and cozy' dalam membuat tugas ini. Sejak awal diberi tugas untuk mengedit foto pribadi melalui Adobe Photoshop untuk cover majalah ini saya sudah membayangkan tema tersebut untuk saya tuangkan di cover majalah saya. Saya ingin membuat majalah fashion yang memberikan nuansa hangat dan nyaman dengan sweater berwarna pink yang saya gunakan dan background taman hijau yang tidak lupa memberikan rasa tenang bagi para pembaca.
Proses Kerja
Proses pertama yang saya lakukan tentu adalah memikirkan tema yang ingin saya gunakan dan mencari referensi dari majalah-majalah lain. Setelah mendapatkan tema yaitu 'warm and cozy', saya mulai memikirkan bagaimana saya mau menuangkan tema tersebut kedalam foto saya. Saya melakukan pemotretan 2x dan akhirnya mendapatkan foto yang sesuai di pemotretan kedua.
Setelah mendapatkan foto yang saya inginkan dan sudah disetujui oleh dosen, saya mulai mengedit foto tersebut sesuai dengan tahap-tahap yang telah diajarkan oleh dosen mata kuliah ini. Pertama saya bermain di image adjustment untuk memperbaiki dan menyeimbangkan tingkat kecerahan dan warna dari foto tersebut. Kedua saya 'memuluskan' kulit saya di foto tersebut agar menjadi lebih mulus dan cerah dengan menggunakan tools-tools yang sudah diajarkan. Tahap ketiga adalah penggunaan filter liquify, yaitu filter yang digunakan untuk membantu mengubah bentuk-bentuk muka dan tubuh sesuai dengan yang kita inginkan. Tahap keempat adalah penambahan make up dengan tool brush untuk menambah warna pada wajah agar tidak terlalu pucat.
Setelah pengeditan foto selesai, tahap terakhir yang saya lakukan adalah membuat foto tersebut menjadi sebuah cover majalah yaitu dengan menambahkan tulisan-tulisan seperti referensi yang telah saya dapatkan dari internet. Setelah semuanya selesai, saya mencetak foto before dan after masing-masing dalam ukuran 29×36 cm pada art paper 150 gsm.
Pengerjaan tugas ini memang tidak memakan waktu yang banyak. Waktu yang saya gunakan dalam mengerjakan tugas ini adalah kurang lebih 10-11 jam sampai benar-benar selesai.
Dari tugas ini saya mendapatkan cukup banyak pelajaran terutama dalam penggunaan tools-tools untuk memperindah sebuah foto yang tidak pernah saya ketahui sebelumnya. Meskipun saya sendiri tidak menyangka bahwa hasil tugas saya termasuk salah satu yang terbaik, tetapi saya tetap bersyukur dan saya bertekad untuk tetap melakukan yang terbaik di tugas-tugas mendatang.