Perancangan Komunikasi Visual Kampanye Visual Aktivasi Taman Kota Di Jakarta
Jumlah taman kota di Jakarta begitu banyak, namun luasnya tidak sebanding dengan mall di Jakarta yang jumlah dan luasnya diperkirakan akan terus bertambah, di mana mall merupakan salah satu faktor yang memiliki pengaruh besar bagi pola hidup warga perkotaan yang cenderung memberikan dampak negatif bagi perkembangan fisik dan mental warga.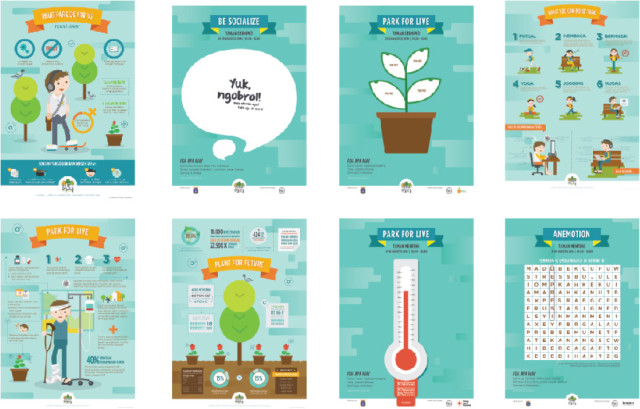 Sedangkan kesadaran warga terhadap manfaat taman masih sedikit, dan sayangnya masih banyak pemikiran bahwa tidak ada hal menarik yang dapat dilakukan di taman sehingga hal ini dijadikan alasan untuk tidak pergi ke taman, yang mana pernyataan tersebut ialah salah.
Namun, selagi isu mengenai kepedulian lingkungan sedang hangat-hangatnya, situasi ini dapat dimanfaatkan untuk memperkenalkan taman yang memiliki banyak manfaat bagi fisik dan mental warga kota. Kampanye aktivasi taman kota di jakarta memiliki peluang yang cukup besar untuk diwujudkan, namun butuh kerja sama dari kedua belah pihak dengan baik untuk mewujudkan kampanye ini berjalan dengan baik dan mencapai tujuannya.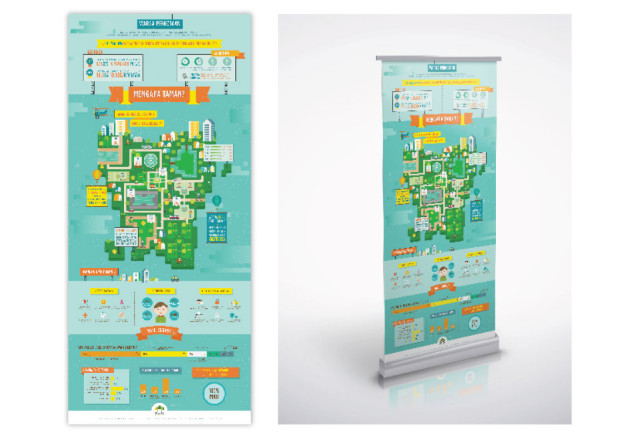 Diharapkan kepada warga kota Jakarta untuk mulai sadar terhadap lingkungan dan situasi yang terjadi, terutama pola hidup yang cenderung negatif. Dan mulai beralih ke pola hidup yang lebih sehat, tidak hanya bagi manusia (manfaatnya bagi fisik dan mental), tetapi juga bagi makhluk hidup lainnya. Yaitu dengan mulai menjadikan taman sebagai alternatif menghabiskan waktu luang dan beraktivitas.
Tujuan penelitian adalah menciptakan sebuah kampanye tentang taman yang berjudul "Aktivasi Taman Kota di Jakarta" guna meningkatkan kesadaran warga Jakarta akan manfaat taman dan mengajak warga untuk beraktivitas di taman. Metode penelitian yang dipakai dengan mengadakan survey lapangan,survey melalui media elektronik, wawarncara dengan narasumber, pencarian data melalui internet, buku referensi. Hasil penelitian yang dicapai menciptakan sebuah kampanye yang bertujuan untuk mengajak warga Jakarta agar lebih sering beraktivitas ke taman dan menciptakan sense of belonging warga terhadap taman di Jakarta. Kesimpulan dari penelitian ini adalah untuk menghimbau kepada masyarakat tentang manfaat taman dalam pola hidup warga perkotaan yang cenderung negatif, diharapkan dengan disusunnya kampanye ini dapat menyadarkan dan mengedukasi warga akan manfaat yang didapat dari taman dan membangun sense of belonging antar warga dengan taman.