Kisah Dalam Sepotong Kardus
Ada pemandangan yang tidak lazim pada sebuah pusat perbelanjaan di kawasan elit Selatan Jakarta Februari lalu. Pada atrium yang kerap sebagai lahan jualan mobil mewah seharga 10 digit angka Rupiah, kali itu justru tanpa malu-malu diisi berkilo-kilo kardus bekas dalam berbagai rupa. Bahkan kardus bekas yang juga ditempatkan di beberapa lokasi lainnya seolah justru ingin diakui keberadaannya oleh para pengunjung Mall tersebut. Kehadiran kardus bekas yang bersamaan dengan perayaan Tahun Baru Imlek lalu merupakan bagian dari kegiatan kampanye untuk mencegah perusakan lingkungan di daerah Muara Gembong, Bekasi Utara, hasil kerjasama Do Art, School of Design BINUS, dan Pondok Indah Mall. Tidak berhenti sampai disitu, berselang beberapa minggu setelahnya kardus bekas dalam bentuk yang lain singgah pula di Fx Sudirman dan Living World Mall Alam Sutera dengan membawa pesan yang serupa: pelestarian lingkungan.
Butuh banyak upaya mengubah berlembar-lembar kardus bekas agar tak tampil lusuh dan tak nyampah saat dipamerkan. Kardus-kardus bekas diubah bentuk sedemikan rupa, di hias dan di lumuri cat beraneka warna hingga menghasilkan bentuk yang menarik dan memiliki pesan yang sesuai dengan tema pameran. Seperti pada sebuah kuda kardus berukuran besar yang di pajang di Pondok Indah Mall, kulitnya penuh digambari suasana hutan Mangrove berikut Mogu, Lutung Jawa yang tinggal di kawasan Muara Gembong itu. Lain lagi dengan Tumpukan kardus berbentuk menyerupai robot yang digambari berbagai kegiatan pada sebuah ekosistem, pada pameran dengan tema Hari Bumi di Fx Sudirman dan Living World Mall Alam Sutera.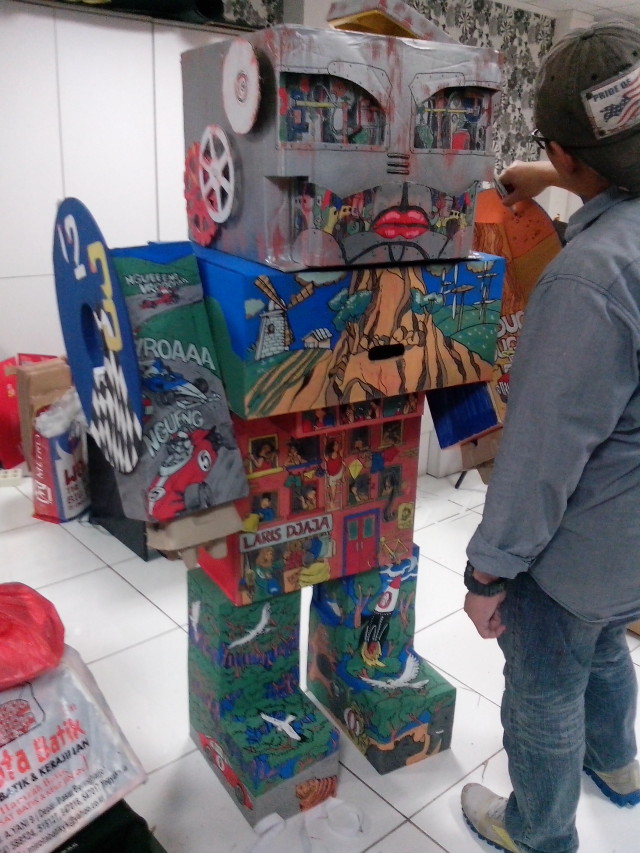 Yang menarik dari kegiatan ini, justru antusiasme dosen dan mahasiswa untuk terlibat dalam kegiatan tersebut yang seolah memperoleh hiburan di tengah rutinitas aktifitas akademik. Ruangan School of Design direlakan untuk menjadi bengkel kerja sedangkan para dosen dengan berbagai spesialisasi bidang keilmuannya, sembari memegang kuas dan wadah cat, mengerumuni tumpukan kardus yang menjadi media berekspresi. Hasilnya, terbukti karya unik tercipta "hanya" dari pengerahkan kemampuan dasar perancang visual yaitu menggambar.