15:30 Day 1 :Games Industry Overview Seminar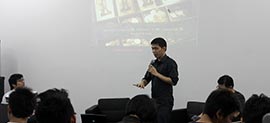 Chandra Wijaya, co-founder of Hompimplay (kids apps & edu-games developer) , spoke in this seminar. He explained about career in game industries widely. And also steps on how to get prepare entering into games industry.
2'nd speaker is Robin Tjungestu, he developed his newest game Faunia Rancher and won in Inaicta 2012, also became a nominator at Sparx Up Award. He explained development of games industry worldwide, every obstacles and its challenges in this industry
Chandra and Robin share their views on how they became game developer as their career. Audience were so enthusiast to get to know on how they made it succesfully.