DKV BINUS SAMARTHARUPA An Award for Indonesia Visual Communication Design Leaders
The progress of graphic design in Indonesia is greatly influenced from the role of leaders in education, especially in the field of graphic design. These people has many contributions and dedications with so much efforts to make this knowledge into something that increasingly popular and in required by many people. On the other hand, many related industry have their concern to observe the progress of Indonesia's visual communication design.  By this particular reason, Department  of Visual Communication Design (DKV) Binus University held DKV BINUS Samartharupa Award Event.
So far, In Indonesia, there has never been an award that specifically given to appreciate educators and practitioners for their contribution and dedication to bring the revival of Indonesia graphic design. And Samartharupa is the first Award in Indonesia which given to appreciate those people.
Samartharupa derived from Sanskrit. Samartha means smart or qualified Samartha, and Rupa means moderate visual art. Thus Samartharupa have a very closely related disciplines of Visual Communication Design, where graphic designers are able to create designs that required smartness, and also has capability to communicate something right as needed.
Samartharupa DKV BINUS Award actually have a popular name, is called BEE Cup. Some says that bees are already synonymous with BINUS University over many years. This is remind us that Academy Awards in the United States is also called Oscar Awards.
Samartharupa Nominees:
R.A. Kosasih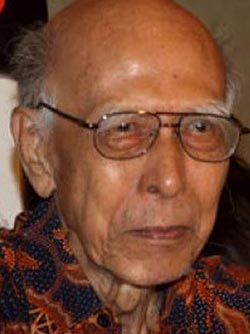 Raden Ahmad Kosasih (Bogor, West Java, 4 April 1919 – 24 July 2012) is a famous author and comic artist from Indonesia. Today's generation regard him as the father of Indonesian Comics.
His works are mainly associated with Hindu literature (Ramayana and Mahabharata) and traditional Indonesian literature, especially of Javanese and Sundanese literature. He also drew a few comics which influenced by Chinese martial arts.
R.A. Kosasih started drawing in 1953, and then he stopped and retired in 1993. He has specialty in drawing sketches in black and white without using color.
He began his career in Melody Publisher in Bandung. But his famous works are published by Maranatha. Late in the decade of the 1990s his works re-published by Elex Media Komputindo Publisher and Paramita Publisher in Surabaya.
R.A. Kosasih comic has created hundreds of comics and the famous one is Mahabharata. His first comic is Sri Asih. This comic is printed 3,000 copies and immediately sold out.
Mr. Comic Indonesia, R.A. Kosasih, passed away at his home in Rempoa, South Tangerang, on Tuesday morning, July 24, 2012 at the age of 93. Previously, he was being treated for heart disease and lung cancer.
RA Kosasih lives with her daughter, Yudowati Ambiana, his son in law and his grandson. His wife and son has passed away several years ago.
Mice
Muhammad Misrad (born in Jakarta, July 23, 1970, age 42 years) is a cartoonist. Together with Benny Rachmadi, they are alumnus from Jakarta's Art institute, majoring graphic design. Mice also a lecturer and he taught at his almamater.
He made a comic strip Benny & Mice containing with social criticism issues. And then Mice becoming his nick name.
Starting in July 2010, he draw in Kompas newspaper without Benny, and the cartoon entitled Mice Cartoon. Two last editions of Benny & Mice are complained against the city and they wanted to moved away from Jakarta.
In the first edition of Mice Cartoon, Mice finally decided to return to Jakarta. And in later editions of his cartoons are about his family life.