Siane Sentrani – Interior Design BiNus Campus Library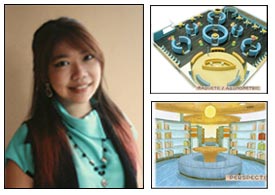 Siane Sentrani
Email :
siane.sentrani@gmail.com
Phone :
0858 1498 2027
read more

She describes herself as young and calm.. Graduated from Binus School of Design majoring Interior Design in 2012.
Portfolio concept:
General area is the main area of the library, where there are shelves of books, a collection of multimedia, reading area, computer area, as well as the circulation area.
Atmosphere that you want to appear in the general area is a fun atmosphere but still relaxed. Blue is a color that can provide a psychological effect to calm the mind and eye. Flowing shape / no angle also gives a similar psychological effect that can reduce stress levels of visitors.