Fidelia Lorensia – Interior Design BiNus Campus Dinamic in a Mix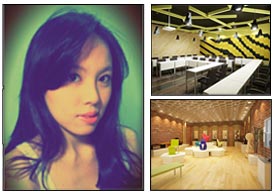 Fidelia Lorensia
Phone :
0818 0780 8907
Email :
fidelia_ven@yahoo.com
read more

She describes herself as a a skilled, harworking, and capable interior    designer. Graduated from Binus School of Design majoring Interior Design in 2012.
Portfolio concept:
Learning is changing in the 2'nd century. Technologies used in learning, such as projector, internet and mobile devices. Understanding what makes an effective design is important. The best are likely to assist all within the institution to work more productively and could be the space which inspiring the students.
The campus location which located in Alam Sutera, Serpong, Banten province also gave the influence on the design. Strength and bravery which have been the characteristic of Banten people became one of the foundations for the design's theme. "Dynamic in a Mix". This theme oriented on the dinamically of the young's who have specific character which are brave, idealist, passionate, free and creative.
The image presented in the works is the image of creativity educational institute, fun, colorful, up to date, free, and yet support the lecturing activity as well.