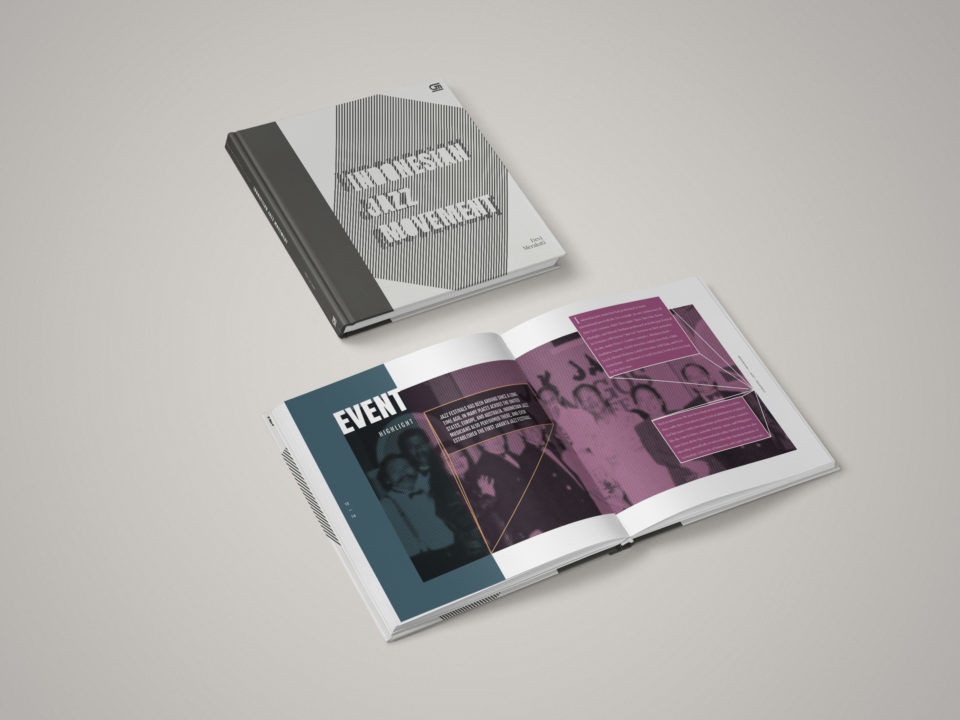 ABSTRACT
The research goal was to design a publication that consists of Indonesian jazz archives and summary behind the movement, so that it could be a more interesting way to introduce Indonesian jazz to the target market. Design method was creative strategy, having young adults as the major target. The visual design adapts the trend but still maintaining the timeless and dynamic feel that is the music jazz itself. Design result shows a younger approach of jazz  which still keeps the value and personality of jazz.
ABSTRAK
Tujuan penelitian adalah merancang sebuah publikasi yang berisi arsip jazz Indonesia beserta rangkuman pergerakan musiknya, sehingga dapat menjadi cara yang lebih menarik untuk mengenalkan jazz Indonesia kepada target. Metode desain menggunakan strategi kreatif, dengan orang dewasa muda sebagai target utamanya. Desain visualnya mengadaptasi tren tetapi masih menjaga kesan timeless dan dinamis dari musik jazz itu sendiri. Hasil desain menunjukkan pendekatan yang lebih muda dari jazz dan tetap menjaga nilai serta karakter dari jazz.
PENJELASAN KARYA
"Indonesian Jazz Movement" adalah sebuah buku yang memuat tentang kisah dibalik perjalanan musik jazz Indonesia dari awal terdengarnya di publik hingga perkembangannya di era digital saat ini. Mengingat peningkatan potensi anak muda masa kini dalam mendalami musik, penulis memutuskan untuk mengangkat dan mengenalkan jazz Indonesia. Selain itu publikasi yang mengangkat musik jazz Indonesia masih sangat sedikit. Buku ini berisikan arsip yang terkumpul dari berbagai sumber baik pribadi maupun dari pihak musisi dan pengamat musik. Termasuk di dalamnya sebuah CD yang berisikan playlist lagu-lagu jazz Indonesia dari awal periodenya hingga yang belum lama rilis untuk menemani pembaca mendalami isi buku.