Pelatihan Kreatifitas untuk Interface Windows 8
Microsoft Innovation Center (MIC) Indonesia mengadakan pengembangan dengan membentuk kelompok Microsoft Indonesia. Bersama Binus university, MIC Indonesia melakukan fokus pada kerja pengembangan aplikasi, meneliti kebutuhan pasar, dan mengembangkan solusi software yang inovatif dengan ekosistem terdiri dari industri, akademik, dan mitra pemerintah.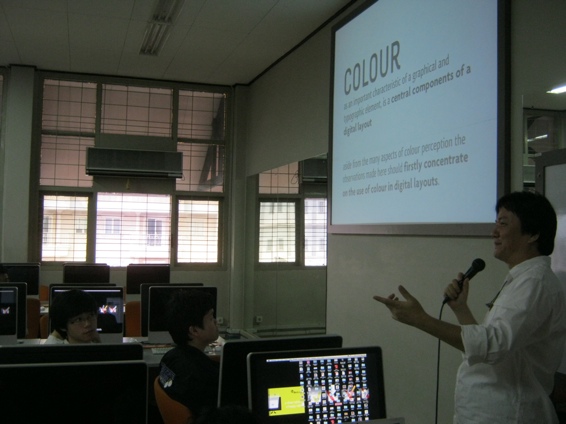 Untuk itu department IT Directorat Research – Binus Uiversity, mengajukan permohonan pelatihan kepada program New Media, SOD – Binus University, untuk mempersiapkan para pendamping kelompok pengembangan MIC. Pelatihan yang diperlukan tentunya menyangkut mengasah ketajaman esktetika visual yang menyangkut desain interface untuk setiap aplikasi yang ingin dibuat.
Untuk itu, Head of Program New Media bersama Subject Content Coordinator untuk multimedia support, menyusun 4 topik yang dirasa penting disampaikan sebagai materi pelatihan. Keempat topik tersebut antara lain : keilmuan semiotika dasar, pengertian dan penggunaan gestalt, pemilihan warna yang taktis, serta harmony layout yang berbasis modular. Untuk jadwalnya sendiri terbagi menjadi 3 hari, mulai dari tangal 4-9 September 2012, yang masing-masing berdurasi 6 jam.
"Tentu tidak mudah mengajarkan seluruh keilmuan desain komunikasi visual dalam satu kali pelatihan, namun melihat respon para peserta yang notabene asisten mahasiswa IT Binus pilihan, saya merasa banyak yang bisa mereka serap dan mengerti dengan baik. Semoga apa yang kami ajarkan dapat membantu memberikan "patron" kreativitas pada benak mereka dalam mengerjakan tampilan interface. Sebab kreativitas memang memiliki teori yang menjadi patron, namun dalam prosesnya perlu lonjakan-lonjakan yang "out of the box" atau istilah buat mereka, supaya kreatif harus banyak "if-else"nya." Sahut James Darmawan selaku Subject Content Coordinator untuk multimedia support New Media Program SOD – BInus University.