Ilustrasi Buku David Tobing
Melalui pertemanan rekan dosen Hastjarjo Wibowo dengan seorang pengacara bernama David Tobing, muncul ide untuk saling bekerjasama antara BINUS School of Design dengan David Tobing dalam merancang sebuah buku berisikan kisahnya dalam membela Hak-hak Konsumen. Rekan-rekan dosen School of Design diberikan kesempatan untuk merancang ilustrasi sampul muka (cover) hingga ilustrasi yang menghiasi kisah David Tobing tiap bab-nya. Termasuk merancang tata letak buku.
Tokoh David Tobing sendiri di kalangan rekan pengacara, pejabat maupun teman yang mengenalnya ternyata termasuk sosok pengacara "langka" di Indonesia yang patut menjadi teladan baik bagi yang sudah berkelas maupun yang baru memasuki tahap yunior. Pria Batak berusia 43 tahun ini menyampaikan tujuan menceritakan kisahnya dalam sebuah buku yaitu agar digaji Rp 4000 per hari saat magang di Lembaga Bantuan Hukum (LBH) Jakarta tahun 1994 hingga 1995 silam. Namun saat ini ia mematok sekitar 3,6 juta per jam untuk kasus-kasus yang ditanganinya. "Ini kan bisa jadi inspirasi ke pengacara-pengacara muda. Jangan mau langsung enaknya saja. Harus bersakit-sakit dahulu, bekerja tanpa pamrih. Di situ mental kita akan diuji," kata David saat dihubungi detikcom, Jumat (19/9/2014).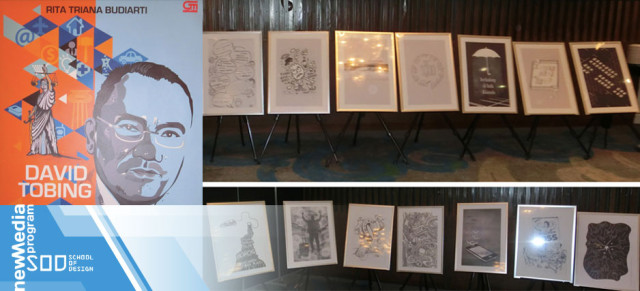 Kisah-kisah perjuangan David Tobing kemudian menjadi inspirasi bagi para ilustrator yang terdiri dari 30 orang rekan dosen di BINUS School Design dalam berkarya.  Pada  hari Jumat, 12 September 2014 di Hotel Le Meridien Jakarta,  diiadakan peluncuran buku ini. Ilustrasi yang berjumlah 29 buku dipamerkan sekaligus terpilih 15 buah ilustrasi yang dilelang tertutup untuk amal. Ada 2 buah yang bermakna khusus yang pertama adalah ilustrasi milik Anam Fathoni yang akan diserahkan kepada Lembaga Bantuan Hukum dan ilustrasi karya Nick Soedarso yang akan diserahkan langsung kepada adik yang terkena kasus terjepit sandalnya di escalator. Sisa karya ilustrasi akan menjadi milik kantor David Tobing yaitu Adams & Co.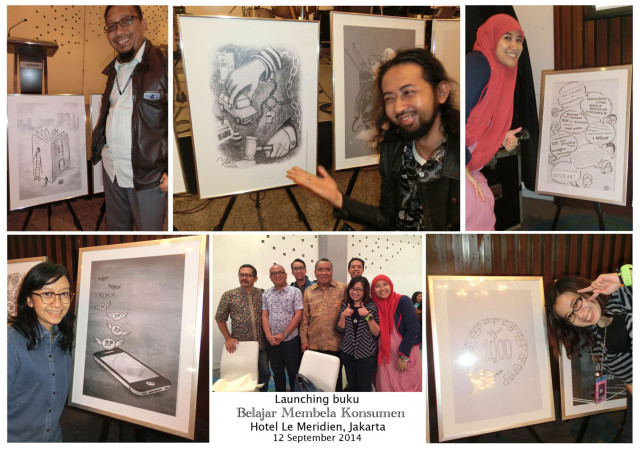 Suatu kesempatan yang luar biasa baik bagi ilustrator maupun sang inspirator David Tobing. Karena di kedua belah pihak terjadi pembelajaran. Saat ilustrator bekerja dan membaca kisah perjuangan muncul sebuah bahasa visual yang digoreskan diatas kertas, begitu pula bagaimana seorang pengacara dapat tampil kisahnya dalam ilustrasi-ilustrasi yang memiliki perbedaan karakter dalam menyampaikan bahasa visual menjadi suatu pengalaman baru dan menarik.